August 12 - 14 Carson Iceberg Wilderness and Leavitt Lake
Time: 12:00pm - 3:00pm Saturday, 9:00am – 4:00pm Sunday
Weather: Sunny- Saturday, Overcast and cool- Sunday
Water Temps: Didn't check.
Water Level: Normal
Water Conditions: Very Clear
Insects Observed: Stonefly Saturday, Caddis Sunday
Hours fished: 3, 7
# of fish caught: 15+ Saturday, 3 Sunday
Method: Dry Fly
Set Up: 7'0" Fast Action Cane Rod W. Cattanach 704-3 made by yours truly, 7.5ft Orvis 6x leader
Narrative:
Mission accomplished. After years of coveting the stream born Lahontan Cutthroat on the back inside cover of Fly Fishing the Tahoe Area, I finally made the trip into the headwaters of the Truckee river to catch my own. This trip has been a year in the planning. Not this exact trip but a trip to this particular stream.
I pulled into the Woodsfords Inn just after midnight. Earlier that morning I'd made a 4.5hr drive to fish Hat Creek and the Pit River with my friend Joel. The fishing was spotty but after a casting epiphany at the Andre Puyans Fly Fishing Seminar, I've come to really enjoy the simple pleasure of casting. So much so I've begun fishing more in a manner that involves true casting instead of simply lobbing. In short I've been fishing dry flies or a dry fly and floating or weighted dropper. The day ended with a pleasant ½ hour of fishing the technical water at carbon flat. 20 minutes of watching, stalking and moving into position followed by 10 min of presentation and having my cripples intercepted by smaller fish. I hadn't had time to look for big fish proper before I headed south to the Lake Tahoe area.
The drive was pleasant but uneventful. The 4.5 hr route, 89 to 44 to 395 to 88, took me past the upper section of Hat Creek, through Susanville, to areas above Reno that I'd never traveled. I'd calculated my drive time well and was now arriving at the motel "right on time". After a quick call to Vita to let her know that I survived the first day of my 3 day ordeal, I settled into bed and unfortunately found a Gene Hackman movie on television I had never seen. I'm a Gene Hackman fan and was quickly captivated by the film despite the fact that it was nearly half over. Finally nodding off about 2am, I decided to take a laid back approach to my fishing Saturday. I won't set the alarm, I'll simply let my body tell me when to get up.
I rarely sleep past 7:30 am and today was no exception. I made my way down to the motel office to sign in and pay for the room before heading to Sorensen's Resort for breakfast. I'd never been to Sorensen's but as a landmark of sorts in this part of the state, I had driven past it many times. Breakfast was fine and very reasonably priced. On the way to the trailhead, I stopped at my old stomping grounds on the West Fork of the Carson River.
I hadn't fished the river for years and as I drove by I decided to stop and simply take a look. Since the last time I fished the stream, a handicap ramp and a sidewalk had been installed leading right to my favorite spot. The spot is rather un- remarkable, it's the first pocket water up from a meadow that gets over fished due to the intersection of highways 89 and 88. I used to park at the highway 89 bridge and simply walk up stream to a second, older bridge. In the past, I'd always had this area to myself, with not a soul in sight. I'd never taken a picture of the area and feeling a bit nostalgic, I thought to make the short walk up the new sidewalk and snap a photo or two.
It sad how many fisherman will not make a simple 5 minute hike upstream but will flock to an area if the access is easy or obvious. This was the case today as the small bridge, with the small pool that I used to fish alone, had no fewer than 4 bait fisherman fishing it, with 2 more bait men up stream and a single fly fisher between the two groups. It was amazing and sad. Instead of taking a photo I decided to simply watch. The fellows were fishing powerbait to a school of recently planted fish, which clearly were not interested. I made the comment that maybe they should try flies. A size 18 PT always worked well here. So well in fact that though I don't have a picture of this area, I do have video of myself fish it. One of the bait fishers seemed offended, "flies don't work here" he snapped. To which I simply shrugged my shoulders. He went to the other side of the bridge and standing directly over a second group of fish, dropped his heavily weighted powerbait rig. Another fellow was already fishing that side of the bridge, but that didn't matter; it was a party. I watched for a little longer, striking up a conversation with the gruff fellow.
"Fishing here is better during the week" he complained. To which I had no doubt, there were probably fewer people to spoke the fish.
"Ever fished down stream on the West Fork? Caught an 18 inch fish in there you know"
"No, I used to fish here with flies, 8 or so years ago, before they installed the walk way". I said.
"Where are you headed today?"
The fellow seemed to know the area pretty well so I nonchalantly told him my destination, before realizing my mistake.
"Where's that?!" He exclaimed, his eyes lighting up.
"3 or 4 hours over yonder" I replied, pointing into the back country.
"To far for me", he said with a smile on his face.
Glad to hear it......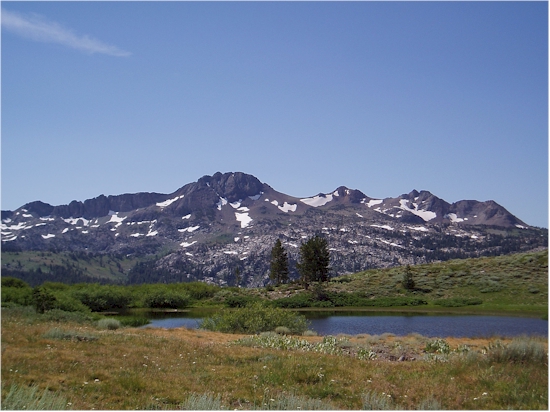 I said my good byes and made my way to the trailhead. The fishing regs were well posted which was something that surprised me. Once on the trail I got lost immediately. The trail heads over some granite and there didn't seem to be any trail markings. I could see some foot prints and what looked like a small trail above the rock to the right. I followed the poorly defined trail for a couple of minutes but quickly realized that it was going in the wrong direction and not well enough defined. I doubled back and noticed something from above that I didn't from below, 3 flattish rocks which looked as if they had been knocked over. Trails are usually marked by slash marks in trees or a pile of rocks and it looked to me as if someone had knocked this pile over. I stacked the rocks and moved on.
The trail was pretty straight forward until about the half way mark where the trail was dotted with several offshoots, each unmarked and in some cases more well worn than the main trail. Uncertain, I continued my trek down into the valley, confidant that if I missed my chosen stream that I'd surely run into something I could fish. The trail crossed several streams, several more streams than shown on the map and it wasn't until I could see a lake on my right that I knew I had reached my destination.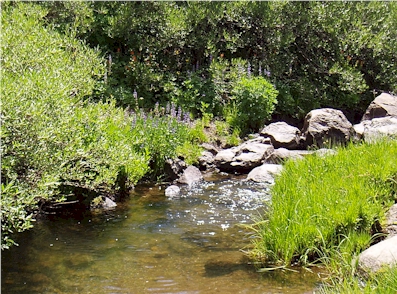 At the trail crossing the stream was small and shallow. The fisherman and everyone else I had seen on the trail were headed to a lake about 2 miles further. I must have seen about 25 people headed to that lake and if anyone of them thought they would have a little solitude, they were in for a rude awakening. I, however, was alone. The stream was fairly brushy but the left side provided some un-obstructed access from the inside of a small drop off. I walked a couple of hundred yards down stream and planned to work up and past the trail. At first glance, the stream looked barren of fish. Look as I might, I couldn't see fish. Putting on a Parachute Adams, I made some obligatory casts to the confluence of two runs at my feet. If there were fish in this run, I must have definitely scared them as I made my way down the bank. I didn't expect much and didn't receive much. There was some good water several feet downstream and I worked my fly in that direction, hoping that I hadn't spooked the downstream fish. A small fish slashed at my fly and I promptly tangled it in the brush. The stream was brushy enough that every missed strike would end with a tangled fly. I drifted the fly again and a large fish rose and the game was on. I landed the fish and stared long and hard at it. It was my first stream born Lahontan Cutt. I had caught Lahontans before, at a lake above Mammoth, but I knew that the steam born fish were supposed to be even more colorful. I was not disappointed.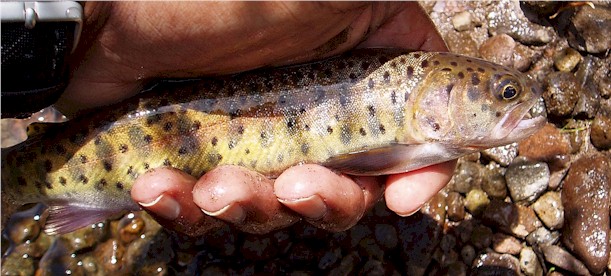 The Heritage Trout Challenge requires you to catch a native fish in its native habitat and take a picture of it. That's why I was here- to catch a Lahontan and capture it on film. I was mildly distraught when the squirming fish slipped out of my hand and back into the stream as I tried to remove my camera from my pocket. Remembering a previous trip for Rio Grande Cutts when I didn't take a picture of the first and only fish caught, I was worried I might not get another chance. I photographed the fish as it held in the water by my feet. Maybe this would suffice.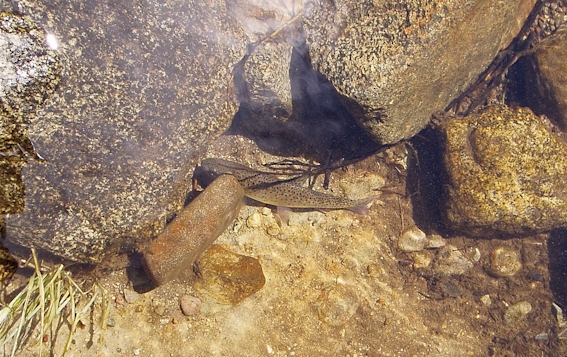 Fortunately, I would catch more fish that day and on the 4th fish I finally got my picture and on the 5th fish another picture and another picture on the 6th fish. Content that I must now have a least one decent picture of a Lahontan Cutthroat Trout, I changed my tactics. Having determined that the stream had fish that would freely rise to a properly presented dry fly, I decided to stalk big fish. I slowly approached each likely holding lie and waited until I was sure I spotted the alpha fish. Once determined, I would only fish to that fish.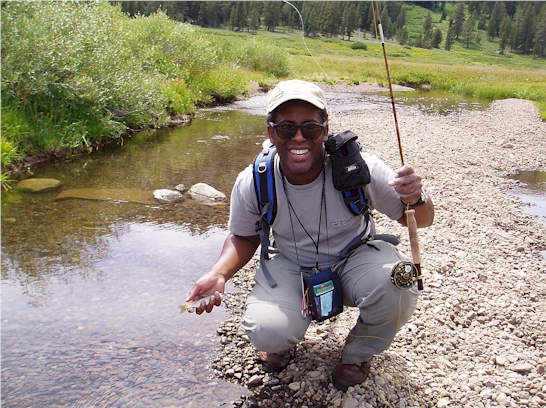 Two fish stand out in my mind, both on the large size for this stream, which means they were 9 inches or greater. The first fish was in a fairly wide pool with two smaller fish between he and me. It was positioned behind a bush and was right up next to the bank, looking in the direction of the bank. There was no way I could make a cast without spooking the two smaller fish and no way to cast my fly ahead of the larger fish without snagging the bank or the bush. Willing to take a chance, I approached the bank, hoping that I could scare the two small fish upstream without spooking the larger fish on the far bank. I wanted to get the smaller fish out of there so they wouldn't strike my fly if I drifted it too far. Willing to take another chance, I decided to lay the fly right on top of the fish. He'd either take it or he'd spook but I figured it was my best shot. The first cast fell about a foot short but I noticed the fish twitch a bit, like it was going to turn around. I got an idea. I laid the second cast out so that it would land just to the left and rear of the fish. This was the side closest to me and made for an easier cast. The fly landed in the left rear portion of its "cone" of vision and it turned around without hesitating and took the fly.
The second incident of note was just up from this lie. As I approached upstream I noticed a fish with a clearly large belly. It wasn't overly long but it looked heavy and was hiding under a bush upstream. In fact, there were many larger fish hiding within that particular lie and as I made my approach I could see why. The pool was a deep one. There were two bushes on my bank and a large rock, between the bushes, on the far bank. This was easily the best lie I would come across all day. I needed to drift my fly under the brush to catch the large fish. As the alpha fish, I figured that it would be positioned under the shrub to intercept all food first. I pulled about 3 feet of line off my reel and decided to dab the fly between the shrubs. With my 7ft leader and 3 feet of line, I could easily drift the fly under the shrub. Staying about 5 feet from the bank, to avoid spooking the fish, I dropped the fly just behind the first shrub. A fish from the first shrub spun around and slammed my fly. At that instant, a giant horse fly decided to take a large chunk of flesh from my arm. Startled, I jumped up and every fish in the pool scattered, there must have been a dozen. I released the fish and smashed the horse fly when it came back for seconds. I returned to this pool several times but never did see the big fish again. I landed a smaller, 9 inch fish, shortly before hiking out.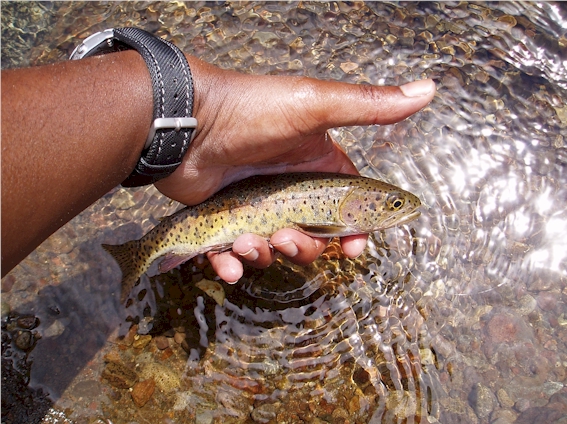 5 am the next morning I awoke tired. 3 days of little sleep and even less food was finally catching up to me. Today I was to meet VFS member PSUMike, whom I have "known" for close to 7 years but never met. We'd planned to hike into Silver King Creek to fish and get a picture of a Paiute Cutthroat. The hike is 13 miles round trip with some killer switch backs on the way out. Going in wouldn't be a problem but knowing how I felt the last time I made this hike, I didn't think I was up for it. I was too tired, too dehydrated. Meeting Mike at the infamous Walker Burger at 7am, I gave him the bad news, I couldn't go with him and was simply going to go home. Fortunately, Mike had already fished Silver King. He likes fishing an area which is a shorter, easier hike than the area I fish and if I still wanted to fish, he'd be glad to go someplace else.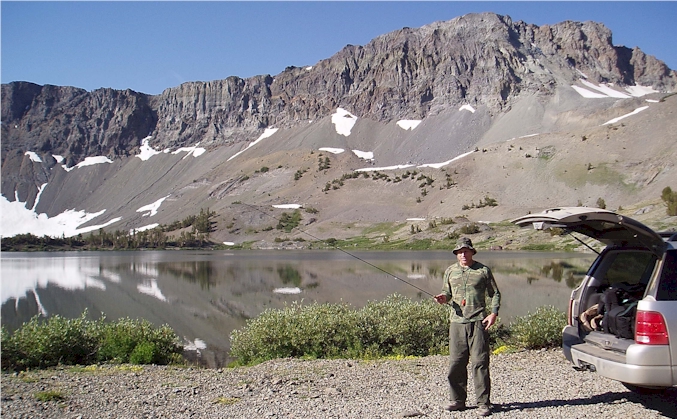 We drove to Leavitt Lake, which was just what the doctor ordered. With a four wheel drive you literally drive to the lake, which was emphasized on our arrival by the presences of several SUVs and groups of people. We geared up and headed to Mike's hotspot. I like to sight fish and so that's what we did as we made our way around to Mike's spot. The banks were high and my casting poor but I was quickly able to hook into a nice rainbow. For the next few hours we cast as much as we could to sighted fish, missing many more fish than we'd hook. At mid day, Mike was into a pod of active fish. The wind had shifted slightly and he was fishing between a large rock and an underwater point; I figure the food was being blown into the small bowl these two structures formed and the fish moved in there to feed. Whatever the reason, he hooked into several large fish in succession.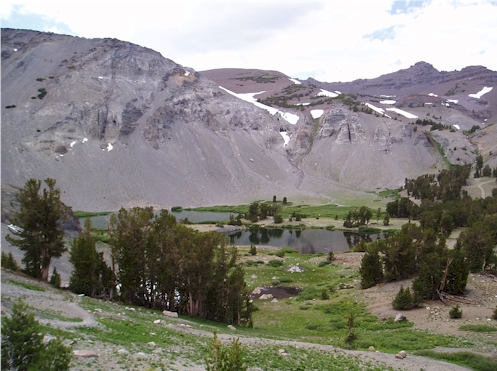 Soon, we decided to make the small cross country jaunt to a pair of nearby Golden Trout lakes. Eagerly anticipating casting to cruising Goldens, we were disappointed when our initial scouting of the lower lake didn't reveal a single trout. No problem right? We'll just fish the outlet stream. We did, only to find it barren. We couldn't even scare up a fish on the small, shallow stream. Had we time, we would have scouted the upper lake but a storm had been threatening all afternoon and we decided it was time to head out.
Next Carson-Iceberg Wilderness Chronicle