Nov 9, 2001 Mystery Creek
Time: 9:00am - 2:00pm
Weather: Mild with scattered shows
Water Temps: ?
Water Level: Normal
Water Conditions: Clear and weedy.
Insects Observed: Green Rock worms
Hours fished: 4
# of fish caught: 5 landed out of 10
It was a grey day at "Mike and Marlo's Creek but that didn't affect the fishing or the fun. Everyone caught fish, everyone had fun... and we were ready to leave by noon.
I was joined by Josh, Marlo and his girl friend Dianne. The day started with the 4 of us meeting at Denny's and then again on the creek. Josh had left his gear at home but with a forty minute round trip to my in-laws, I was able to furnish both a rod and reel.
Marlo and I had waders but the Josh and Dianne did not. This would make fishing a tough proposition. Dianne stayed on shore and fished with Marlo. Josh and I made our way up stream. This creek is the kind of place where you really want to have waders or wade wet. Marlo and Dianne fished from shore where we put in and then drove up stream where the creek could be accessed more easily from shore.This was big fish territory and frequented by the bait fishers. I usually fish upstream to this area as the icing on a cake which is a good day of fishing. Marlo and Dianne would land about 3 fish all around 18inches.



Josh and I headed upstream together. I worked at a fairly quick pace, throwing a couple of casts and moving upsteam. I fished passed Josh leaving him one of the most productive areas of the stream. "Mike and Marlo's Creek doesn't have a large fish population. It's gets regular stocks from DFG but gets fished out pretty quickly by the bait fishers. In addition, on Marlo's last trip a DFG Ranger informed him that otters had found the creek and the planted feast it provides.
In the "good old" days, Mike and Marlo would tell me that just after a plant they could literally catch fish on every cast. This is no longer the case. I myself have only experienced this hand over fist fishing once, in one hole. Mike and I were fishing where Josh and I were fishing now. I had just fished through the lower run when Mike followed me and caught 4 successive fish. I was inconsolable but after a quick fly change, I too was into fish. At one point Mike and I were fishing across from each other, so close were probably could have touched each other. We fished together, fishing the same hole and picked up fish on each cast. Challenging? No, but great fun.
At one point the tables turned. Mike stopped catching fish but I didn't. The water was clear and we could see the crowd of planters beneath us. They herded together like Wildebeest on the African plains. After catching about 3 fish without Mike following suit, I let him in on the secret. His fly wasn't sinking fast enough to reach the fish. He put on another split shot and was again in business. Then as quickly as it started, we stopped catching fish. Perplexed at first, we quickly realized what was happening. The water was rising; it had risen about 1 foot and continued to rise. It was time to leave.
Josh and I were fishing in what I consider guaranteed fish territory. I had never not caught fish in this area and use it as a predictor of how the fishing will be on the rest of the stream. Josh was fishing the lower section when a 14 inch rainbow moved upstream. He drifted a Krystal Flash on a hook past him. The fish moved for the fly and Josh missed. He made another drift, followed by another grab and miss. Josh and I laughed as he told me how we kept missing the fish but it kept coming back for more. I waded down to help Josh land the fish, encouraged buy the fact that the otters had missed at least one good fish.
This would be Josh's only fish of the day. The stinging nettles streamside made access difficult and Josh probably spent more time tangled than fishing.
I waded through the pocket water upstream, fishing each pocket as I went. I took my first fish under "the canopy of trees". Using a short line and a duo of flies, I made about a half a dozen casts to each pocket as I continued up the narrow creek. The drifts where no more than 8 feet long but effective. I managed to catch 3 fish before Josh caught back up to me. I was landing my forth as he fought his way the through the brambles.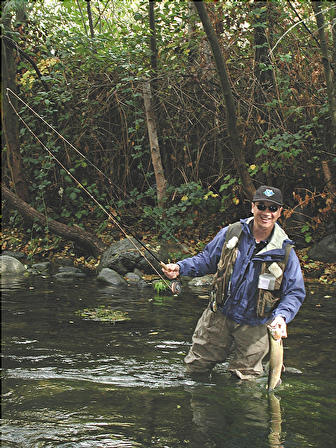 It was barely noon but I was ready to go home. We had barely fished 1/4 of what I normally fish but I had 4 fine dinner fish and felt pretty satisfied. I guessed that Josh was ready to pack it in as well so we headed back to the cars. Marlo and Dianne where there, equally satisfied and ready to head to Yosemite for the afternoon.


We swapped fishing stories and parted company. Marlo and Dianne headed for Yosemite, Josh headed home and I headed upstream in search of big fish.



Previous Pish Page Chronicle Next Pish Page Chronicle Pish Page Index